Mallorca Adventure Sports offers Kitesurf lessons in Mallorca. Our school in Mallorca offers kitesurfing or kiteboarding lessons for beginners as well as for those who already have some knowledge of this extreme sport but wish to improve certain techniques.
Kitesurfing or kiteboarding is a fast growing watersport where you use a kite to harness the power of the wind and glide your board on the water. By moving the kite up and down through the power zone you increase or decrease your speed and steer yourself on the water.
We provide you with all the equipment necessary to start the kitesurf lessons, as well as advice when looking to buy your own gear.
After our kitesurfing lessons you will be able to set up your own kitesurf equipment, launch and land a kite, bodydrag and waterstart and start riding the board.
We will also teach you how to operate the various safety releases and equipment, as well as tell you what to look out for when going out to kiteboard on your own.
The kitesurf lessons cost 45 EUR per hour, price includes equipment, insurance and instruction.
Lessons are held in Arenal, near Palma or in the bay of Puerto Pollensa, North of the island, at a 50 minutes driving distance from Palma. It is the ideal spot to learn kitesurfing thanks to its daily thermal wind and shallow shores.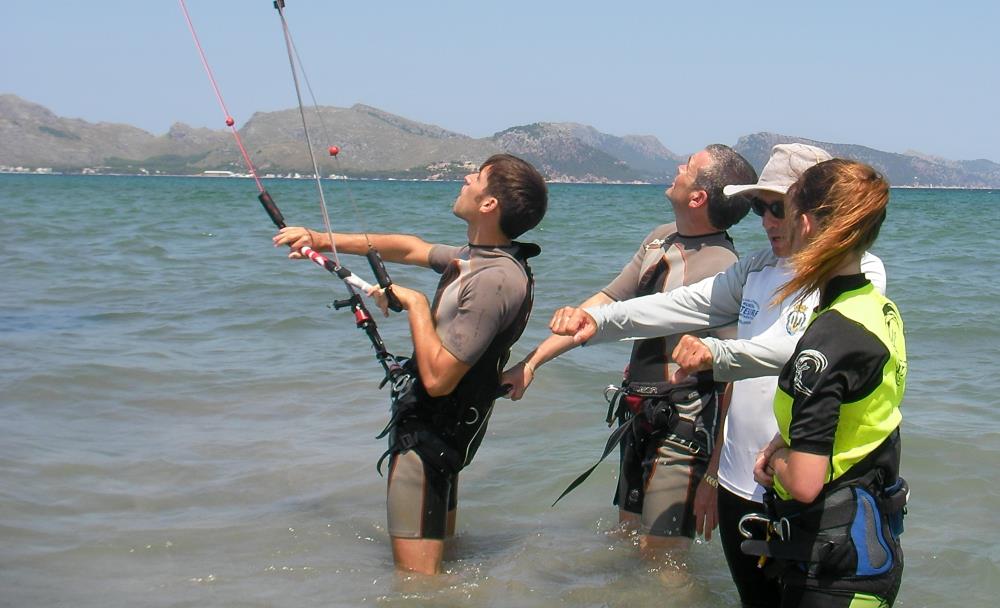 After a brief introduction on the beach, you will quickly go into the water with your kite to practice steering and relaunching. Once you master the technique with smaller kites, you will gradually start using larger kites until you begin practicing the waterstart with a kiteboard.
Our instructors will guide you all the way through and tell you about the various safety conducts to take in mind when kitesurfing.
Click
here
for more pictures of our
kitesurf lessons in Mallorca
.
E-mail info@mallorcaadventuresports.com and book your kitesurf lessons in Mallorca today