The fishing trips part from Puerto Pollensa, North of the Island, where you can spend the morning or afternoon fishing while enjoying beautiful sights of the Tramuntana mountains.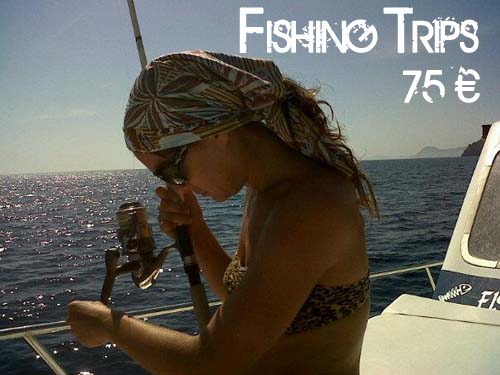 The fishing trips start at 09:00h in the morning or 15:00h in the afternoon and have a duration of 4 hours, at 75 EUR per person.
During this fishing trip you will go bottom fishing in the bay of Puerto Pollensa between 30m and 70m deep, angling for rockfish like megrim, John Dory, scorpionfish, painted comber, seabream, red mullet, etc.
The skipper will prepare your bait and angles so all you need to worry about is making sure the fish doesn't get away once it takes a bite! A couple of snacks and cold drinks are offered on boar and you are welcome to bring any additional beverages of your own.
The views in the bay of Puerto Pollensa are spectacular as well, and a sundeck is available on the boat for those who prefer relaxing during the fishing trip.
The skipper has its regulal fishing spots marked on the map and will bring you to the places you are surest to catch. He'll best know how to handle each different specimen you haul out of the water during your fishing trip.
Click
here
for more pictures of our available
fishing trips
.
E-mail info@mallorcaadventuresports.com for more information on our fishing opportunities in Mallorca.